Illustris Palustris Award: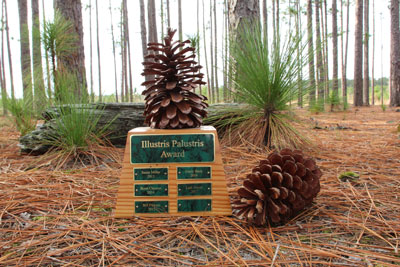 Since 2013, the North Carolina Longleaf Coalition has recognized significant accomplishments to longleaf conservation efforts in North Carolina through the Illustris Palustris Award. This annual award is presented to an individual in recognition of outstanding contributions to promote the maintenance and restoration of North Carolina's Longleaf Pine ecosystem. Qualified nominees have gone "above-and-beyond" in their longleaf efforts through leadership, advocacy, and outreach.
Honorees are recognized at an award ceremony with a certificate and inclusion on the Illustris Palustris Pine Cone Award.
Previous Award Recipients:
Any interested party within the longleaf community may submit a candidate for consideration. Please fill out this nomination form if you are interested in nominating a worthy individual. Nominations for the 2023 award are due June 30, 2023 and should be emailed to julian.wilson@ncagr.gov.
---